---
Online sales are temporarily suspended !!
Contact the seller in advance before paying for the order!
---
Jewelry Tutorials.
How To Create Lovely Jewelry
About the jewelry tutorials:
There are so many ways to create jewelry, and there are luckily no rules to tell you how they shall look, or what you must use to make them. You can let your imagination and creativity go wild.

To classify jewelry into groups is not an easy task. Of course, you can see plainly that it is a bracelet or necklace, but when it comes to say what kind of bracelet or necklace it is, the trouble begins.

Pure beaded or bead embroidered jewelry is normally easy to classify. But what when you combine several techniques, like chain mail and polymer clay, or worse, add felted beads to that. What kind of jewelry have you then?


These tutorials are about putting different components together into jewelry, and about the basic jewelry techniques. I have tried to put them in groups by what kind of jewelry they represent, but it has not been easy, and some of them are probably likely to be in the "wrong" place. There for you will find links from or to other tutorials under Polymer clay tutorials and Beading tutorials, so that you can get the whole development of each piece of jewelry. Hopefully that may help you a little.

I hope you will enjoy them all, and use them to get inspiration to create your own awesome jewelry.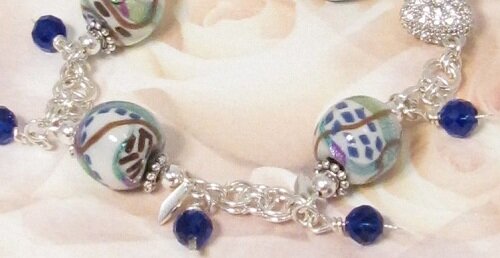 Basic tutorials:


Make Your Own Ear Wires

How to make wire loops

How to fasten a clasp to a jewelry wire

Want to know how to make your own Jump rings?



Bead stringing:

Purple Necklace with Polymer clay beads in a Plum and Peppermint Skinner blend

Red and White Nugget Bracelet

Make your own clasps:

Make your own Double Hook Clasp

Make your own ornate Hook and Eye clasp

Make Your Own Wire Clasp In Just 5 Minutes

Wire work tutorials:

Beautiful Flower Earrings In Green And Peach

Dangling Necklace With Flower Beads And Silver

Colorful Nugget Necklace In Royal Blue And Green

Long Silver Necklace With Polymer Clay Beads, Gemstones And Pearls

Chain Mail

Chain Mail Bracelet With Polymer Clay-, Bone- and Freshwater Pearl Charms

Make A Full Persian 6-1 Pendant With Lovely Aqua Jasper Pebbles

Blue Dragon Back Chain Mail Necklace

Use Helm Chain to Make A Trojan Chain Mail Necklace

Macrame

Macrame knots - Part 1 - The Basics

Make A Light And Lacy Macrame Bracelet

Make A Pair Of Light And Lacy Macrame Earrings

Macrame Bracelet - Do Magic With Double Half Hitches And Beads - Part One

Macrame Bracelet - Do Magic With Double Half Hitches And Beads - Part Two

Yellow And Purple Macrame Bracelet - Part 1

Yellow And Purple Macrame Bracelet - Part 2

Yellow And Purple Macrame Bracelet - Part 3


Various Tutorials

Glamorous Crystal Cluster Earrings

Use Links To Build An Elegant Charm Bracelet And Earrings

Dangling Lizard Earrings In Silver And Crystal


Return from Jewelry tutorials to Home page
Contribute with YOUR tutorial
My dream is to make this site the largest and best jewelry making site there is. Where you can find tutorials on every aspect of jewelry making, a real tutorial heaven for crafters around the world.

But, I need your help. Adding only my own tutorials will not give my visitors what they seek, so YOUR tutorial is very valuable not only for me, but for all the people visting this site. With your help, I may achieve my dream, to make this a true tutorial heaven.
See tutorials contributed by other visitors
Click below to see tutorials contributed by other visitors.
Handmade Cluster Earrings Tutorial

Actually it's a video tutorial for begginers and you can watch it here: Handmade cluster earrings Enjoy! :) Susy Earth Expressions on Etsy …