---
Online sales are temporarily suspended !!
Contact the seller in advance before paying for the order!
---
Bead Weaving
Do Magic With A Needle, Thread And Beads.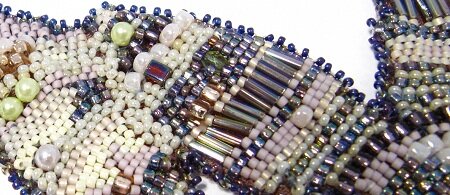 What is Bead Weaving?
These beading techniques are not made on a loom, and are therefor also called "off loom" techniques or "needle weaving".
They are done by using a single beading needle, beading thread and beads, to weave beautiful patterns and structures. Some techniques also have two needle variations.

The beads mainly used are seed beads, but all kind of beads are suitable, depending on what you intend to make. You can also combine several techniques to design fabulous jewelry.




The "off loom" techniques:
There are several beading techniques. The following list are the most common techniques used.

- Brick stitch
- Peyote stitch (gourd)
- Russian Spiral weave
- Square stitch
- Right angle weave
- Herringbone stitch (Ndeble)
- Triangle weave
- Dutch spiral
- Ladder stitch
- African Helix
- Netting stitch
- St.Petersburg chain
- Spiral rope chain

I will introduce you to them all on the Bead weaving tutorial page.

The beading basics:
There are not many beading basics, since it does not require a lot to do needle weaving. You simply need a needle, thread and beads. However there are different types of threads, some suitable for this and some for that. Picking the wrong thread for your projects, can be fatal if it is not solid enough. Using the wrong beading needles, may make the whole beading project seem like a nightmare, where you spend ages fighting to thread one, or push it through a bead with a small hole.

Therefore there are a few things that can be good to know. Click on the following links and you will hopefully find all the information you need to make your beading a prosperous joy.


Do you have a question? Post it here, and have the community answer it for you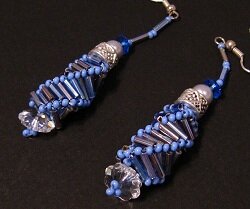 What sort of tools do you need to do bead weaving?

Return to Home page


Do you have a question?
Do you have a question about jewelry making?
You can post it here. You can also answer questions and even rate them if you like.
What Other Visitors Have asked
Click below to see what other visitors have asked.

Bead Size Gauge

Is there a bead chart so you can know the size of your beads. Like a size Gauge for a 8mm etc. I think I saw a chart that you can put your bead on the …
Beading Needles

Love your website. Very informative. Would you suggest #10 or #12 needle for beading a 4 mm bead?
Cracking Delicas Not rated yet
I love using Delicas in my bead work, but i have a problem with some of them, as they crack and fall off. The ones that crack are the ones with a silky …