---
Online sales are temporarily suspended !!
Contact the seller in advance before paying for the order!
---
Jewelry Basics
Knowledge about what you need to make jewelry, the jewelry basics, can make the difference between amateur and professional handcrafted jewelry.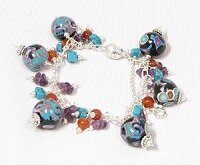 When I was a newbie to jewelry making, I made several nice necklaces, but since I didn't know better, I made them with the wrong thread. The result was necklaces that broke after a short time. I learned the hard way, and thanked heaven that I had not sold any of them.


On the following pages, you can read about the basics in jewelry making. Find out all about findings, which beading wire to use for your different projects, about using the right tool for the right job, and more.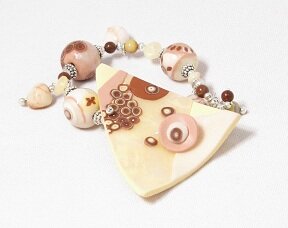 Knowing what's available of jewelry supplies, what to use and how to use it, will make the ride towards finished jewelry easier for you. And perhaps also cheaper? I have bought so many different jewelry tools, that I thought I needed, but never used.

A good foundation is necessary for most things, and jewelry making is no exception. Without it all your hard work may be in vain. Therefor I have gathered what I know on the following pages, and I hope they will be of good use to you. Enjoy!


Do you have a question? Post it here, and have the community aswer it for you


Return from Jewelry basics to Home page

Want to know about jewelry tools? Click here

Want to know more about jewelry findings? You find it all here.

Do you want to know what kind of Beading Wires to use for your projects? If so, read this!

Jewelry wire, read about sizes, wire hardness and metals

Learn about the different types of clasps and which to use for what.

Jewelry Design - Not Just A Visual Feast

Jewelry Design - Creating With Your heart

Chain Mail - Useful information To Avoid Frustration


Do you have a question?
Do you have a question about jewelry making?
You can post it here. You can also answer questions and even rate them if you like.
What Other Visitors Have asked
Click below to see what other visitors have asked.

adding beads to clay before baking?

what is the best way to add seed beads to clay as a decorative componant before baking jewelry piece/
using translucent clay

is translucent clay going to bake clear enough to see a picture through and if so how thin does it have to be