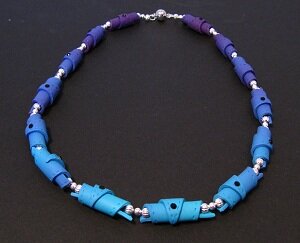 Purple Necklace With Skinner Blended Polymer Clay Beads
This purple necklace is made with polymer clay beads in a beautiful Skinner blend of Plum and Peppermint colored clay.

It is embellished with black Swarovski point back crystals, strung with silver beads in two sizes and has a sliver magnetic clasp.

Click here to see how these beads were made.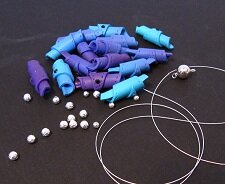 To make this necklace you will need:
- 14 Polymer clay tube beads
- 28 4 mm round corrugated silver beads
- 15 3 mm round silver beads
- 2 crimps
- 2 crimp covers
- 2 wire guardians
- 1 magnetic clasp
- 50 cm Beading wire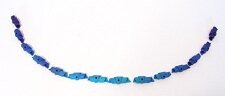 Step 1:
Lay the polymer clay beads out in front of you, in the order you want them to be strung. This will also give you a hint of how long the necklace is going to be, so you can adjust by adding or removing beads.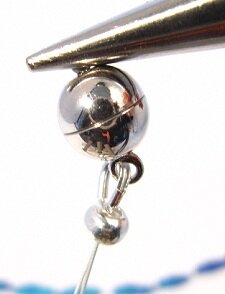 Step 2:
Fasten the clasp to the beading wire, with a crimp and a wire guardian, and cover the crimp with a crimp cover. You are now ready to start to string the beads.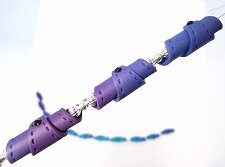 Step 3:
String the beads in the following order; one 3 mm silver bead, one 4 mm silver bead, one polymer clay bead, one 4 mm silver bead, one 3 mm silver bead, one 4 mm silver bead. Repeat until all beads are strung. Add a crimp, a wire guardian and fasten the other end of the clasp. Cover the crimp with a crimp cover.

The beginning and the end will be equal, and the crimp covers substitute the first and the last 4 mm silver bead.

The finished length of this necklace is 46 cm. If you need to make it longer, you can either add more silver beads in between some of the polymer clay beads, or at the beginning and end.

If you make the beads, remember to make some extra. That way you can adjust the length to what suits you.



Return from Purple Necklace to Jewelry tutorials

Go to Home page


Contribute with YOUR tutorial
My dream is to make this site the largest and best jewelry making site there is. Where you can find tutorials on every aspect of jewelry making, a real tutorial heaven for crafters around the world.

But, I need your help. Adding only my own tutorials will not give my visitors what they seek, so YOUR tutorial is very valuable not only for me, but for all the people visting this site. With your help, I may achieve my dream, to make this a true tutorial heaven.