---
Online sales are temporarily suspended !!
Contact the seller in advance before paying for the order!
---
Sparkling Crystal Feathers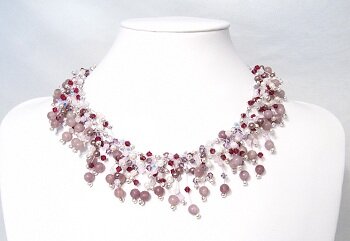 Can you ever get enough of crystal jewelry? This necklace looks like sparkling crystal feathers swirl around your neck. The combination of gemstones, crystals and glass pearls give a very elegant appearance. Adding the chain make the length ajustable.



To make it, you need:

Swarovski 4 mm bicone crystals in Ruby, Vintage rose AB, Violet and Rose alabaster. Proximately 120 of each color
4 mm glass pearls in white and plum, proximately 50 of each.
60 6 mm round lilac stones
proximately 150 2.5 mm crimp beads
Proximately 150 3 mm crimp covers – silver plated.
Beading wire 49 strands, 0.14 in. Pearl color.
Jewelry glue
Wire cutters
proximately 20 cm silver plated chain
Lobster clasp, silver colored
fireline or thin fish line
Beading needle
Step 1:
Cut a length of beading wire, proximately 45 cm long. String on randomly 4 mm bicones, glass pearls and Lilac stones, with one crimp between each, until you have 30 crimps strung. Add the clasp and fasten it with crimps, but do not cut the wire.



Step 2:
You will now start making the crystal feathers. Cut three lengths of beading wire. Vary the length slightly on each, like 5 cm, 6 cm and 4 cm.

Start on the middle of the necklace. Thread the tree lengths through a crimp. Adjust them so that they appear different in length and flatten the crimp with your nose pliers to fasten them. This will give you a bundle of 6 strings, on which you can string beads.


Step 3: Add beads and crystals to the 6 strings. Vary the number of beads you string on each. Add a lilac stone to the end of the longest ones. Slip on a crimp bead at the ends and flatten them. Spread the beads along each of the wire strips and glue them onto the wire with a drop of the jewelry glue.



Step 4:
Cut three new lengths of wire, and fasten the bundle with the crimp bead next to the one you used in step 2 and 3. Make sure that you have proximately 1,5 cm between each bundle you attach. Add beads like in step 3.

Continue adding bundles of wire and beads until you have between 20 and 30 bundles, depending on how long you want the necklace. Add bundles until you have covered from front and til the back sides of your neck. From front it will look like the crystal feathers go all the way around you neck.



Step 5:
Add a crimp cover to all the crimps you have fastened around the neck and on the ends of the bundles. Add a drop of glue inside each to keep them in place. Use the wire cutters to cut of the wire ends as close to the crimp covers as you can.




Step 6:
Remove the clasp you fastened in step 1. Remove the beads and crimps that you did not use. Cut a proximately 7 cm piece of the silver chain. Add a crimp bead and fasten the silver chain next to the last crystal feather bundle. Add a crimp cover with some glue and cut the excess wire. Add the clasp to the other end.



Step 7:
Add the rest of the silver chain to the other side of the necklace, like you did in step 6. If you find it too long, just cut it the length you want.






Step 8:
To make the small crystal ball that hangs from the chain you will use Right Angle Weave like this: Cut a comfortable length of fireline and string on 4 bicones. Tie the tread so that you make a ring of the four crystals. Go through bead 2 again and exit from bead 3, like you see on picture 1.
Add three crystals and weave your way to exit the last bead, like on picture 2. Repeat one more time. Then, add one crystal, go back through the very first crystal you added in picture 1, add a crystal and go through the bead you exited in the third round, like you see on picture 3. This will tie the crystals into a small ball. Use up the rest of your fireline by going through all the crystals randomly, until it is firm. Tie off and cut the thread.



Step 9:
Add a jumpring to the crystal ball, and fasten it onto the end of the chain you added in step 7. And that was it, your necklace with crystal feathers is ready to be worn.


If you want some glamorous earrings to go with the necklace, check out this tutorial: Glamorous Crystal Cluster Earrings



Return from Sparkling Crystal Feathers to Jewelry Tutorials

Go to Home Page


Contribute with YOUR tutorial
My dream is to make this site the largest and best jewelry making site there is. Where you can find tutorials on every aspect of jewelry making, a real tutorial heaven for crafters around the world.

But, I need your help. Adding only my own tutorials will not give my visitors what they seek, so YOUR tutorial is very valuable not only for me, but for all the people visting this site. With your help, I may achieve my dream, to make this a true tutorial heaven.
See tutorials contributed by other visitors
Click below to see tutorials contributed by other visitors.
Sparkling Crystal Feathers Project

I love how this project looks, but I am slightly confused by the directions. Here is my problem: I don't understand Step 1 and Step 6. If I know I'm going …