---
Online sales are temporarily suspended !!
Contact the seller in advance before paying for the order!
---
Jewelry, Polymer Clay and Beading Tutorials. Want to learn it all...in one place?

Are you a little tired from surfing the net for instructions on how to make jewelry? Finding one here, another one there, spending hours and hours online to find the right ones?
Want to spend those hours making something beautiful and exceptional instead?
There are Sooo many fabulous sites out there with tons of inspiration and things to teach us. But it really takes loads of time to find the ones you want, the ones that covers the technique you are into right there,right then. The ones that inspire you to start something new, explore new ways, get great ideas, inspire you in the right direction, to combine things.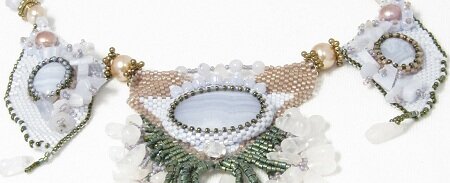 To me, it took years of searching, stiff shoulders, dried out eyes and family members who got a little upset because dinner was delayed, clothes weren't washed... and...you know. Hours and hours to find sites that could provide me with whatever I sought at the moment.
So an idea took place in my head: why not make a site where you can find it all. No more searching around. No more dry eyes, No more spouses or children complaining.

A place where you find it all, under one roof:

1. All the basic information you need to start with Polymer clay.

2. All the basic information you need to start beading, like supplies, tools, mixed media and more.

3. Where you learn the basic techniques for working with Polymer clay.

4. Where you learn the basics, like how to fasten crimps, make jump rings, do wire work....

5. Can get basic instructions on Beading stitches and bead embroidery.

6. where you find lots and lots of polymer clay tutorials that covers all aspects of creating with this marvelous media.

7. Can find beautiful Beading projects, where you explore all the different beading techniques.

8. And many, many projects where it is all put together into beautiful and unique jewelry

And if you don't want to make your own, you can buy beautiful hancrafted jewelry in The Jewelry Store.

You will also find information on:

A. color theory and how to use it to its fullest when you design your projects.

B. on beads, like gemstones, glass beads, metal beads, seed beads....

C. on bead design and how to shape your own beads with polymer clay.

D. on faux techniques in Polymer clay, where you can imitate your favorite materials like gemstones, metal, bone, leather.....

Well,here it is.:)
Ready to explore? Go ahead....
The Jewelry Making Blog will keep you up to date about what is going on on www.Jewelry-and-polymerclay-tutorial-heaven.com. Subscribe here.
Welcome to the Jewelry And Poly Gallery. All the items are made by me. I hope you will enjoy it!
Books may be what it takes to regain your creativity. I see them as one of my greatest sources for inspiration and new approaches. You can read about new techniques, new combinations of materials tha
The polymer clay basics are important. They found the ground for your success or failure. The more you know and learn about it, the more fascinating it gets. The ways you can use it are unlimited, a
Jewelry basics, like what kind of findings there are, what kind of tools you need for jewelry making, all the different types of wires and clasps there are and more, found the base of jewelry making.
The bead weaving techniques are not made on a loom, and are therefor also called "off loom" techniques or "needle weaving". They are done by using a single needle, thread and beads, to weave beautifu
It is not always easy to determine which category of the tutorials a piece of jewelry belongs to. You clearly see that it is a bracelet, earring or ring, but sometimes different materials and techniq
Want to learn about making jewelry? In that case check out these amazing jewelry tutorials. I hope you will enjoy them and that they can inspire you to create your own awesome jewelry.
In the following beading instructions, you will find the basic of all the beading techniques, then the different variations within each category. I hope you will find them stimulating and that you can
Gemstones have been used in jewelry making for as long back as the human race has existed. Today they are also highly treasured as collectors items in both raw and treated states.
Jewelry beads are found in all cultures around the world. The name Bead comes from the Anglo Saxon word Bidden which means to Pray and Bede which means prayer. Mankind have used beads for close
Without metals jewelry would probably still have been made from organic materials and stone. But we found metals, and from there on the use of these precious materials have steadily increased, as new
Color theory is a whole science branch on its own, and color is magic. But what on earth is it? What do we actually see?
Jewelry trends have changed rapidly through time and have been a powerful tool for humans from the very beginning. Through out time it has been used for protection, to show of wealth, to show politic
There are many ways to make jewelry and some jewelry making techniques are highly professional and great skills are needed to do them, others are achievable by less skilled crafters, like me.
Famous jewelry triggers our curiosity like never before.
This site is my personal site. I make it because I love jewelry making, and want to provide for you a site, where you can find all the information about jewelry making, and lots of free tutorials, so
Contact me
Find links to other sites, to deepen your knowledge about Jewelry making.
www.Jewelry-and-polymerclay-tutorial-heaven.com's privacy policy
Site map for easy navigation on Jewelry and Polymer clay Tutorial Heaven
Plique-a-jour enameling is the name of a technique which probably is the most sophisticated and beautiful of all enameling techniques. Imagine the glass paintings in a church, with the sun shining th
When I think of enamel jewelry, I think of my grandmother. She had these lovely, cream colored earrings with golden lines, shaped like leafs. Now I know that they were enameled Guilloche, but sadly I