---
Online sales are temporarily suspended !!
Contact the seller in advance before paying for the order!
---
Purple And Turquoise Skinner Blend Cylinder Beads

These purple cylinder beads are made with a lovely Skinner blend in Plum and Turquoise clay. They are cut, rolled, textured and embellished. Sounds complicated? It is not! As a matter of fact, these beads are very easy to make, and can be enhanced further by using most of the other polymer clay techniques, like Mica shift, Mokume gane or Brocade.

Want to give it a try? OK, lets start!


What you need to make these beads: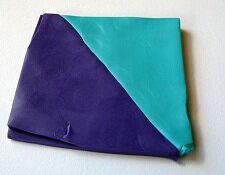 Step 1:
Condition the clay
with your
pasta machine,
or by hand if you don't have one. Finish on the thickest setting.
Cut the two clays in two equal sized squares. Cut each square in half diagonally about 1 cm from the corner. Stack the two plum colored sheets on top of each other, and do the same with the peppermint sheets. Then put the two sheets together as you can see in the picture.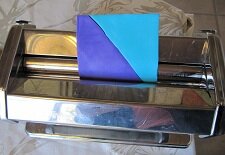 Step 2:
Put the sheet in the pasta machine, as shown, and run it through on the thickest setting. Fold it in half and run it through again. Repeat until you have a smooth blend of the two colors.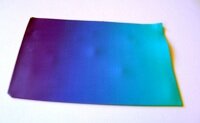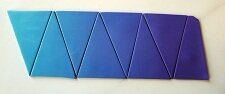 Step 3:
Run the sheet through on a medium setting, but turned,so that you run from pepperming to purple. Cut it in two horizontal, so you have two sheets that blends from plum to peppermint.
Cut the sheets into triangles as shown.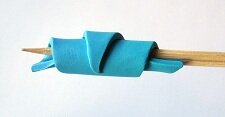 Step 4:
Dust a bamboo rod or knitting needle with cornstarch, and carefully roll the first triangle onto the rod, starting with the wide end.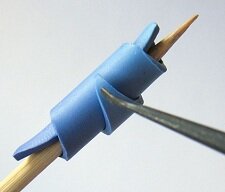 Step 5:
With a tool, make small marks along the edges of the bead, so that it looks like stitches.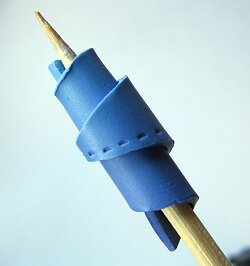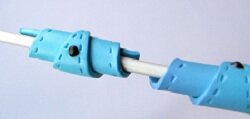 Step 6:
Attach a Swarovski crystal near the pointy tip. Slide the bead careful of the bamboo rod, and onto the rod you will bake it on. Repeat with the other triangles.
Bake the beads for 30 minutes, and they are done. You have made some beautiful cylinder beads.
Easy wasn't it?


If you want to see these beads used in a necklace, click here.

Return to PMC Tutorials

Return from Purple and Turquoise skinner blend cylinder beads to Home page
Contribute with YOUR tutorial
My dream is to make this site the largest and best jewelry making site there is. Where you can find tutorials on every aspect of jewelry making, a real tutorial heaven for crafters around the world.

But, I need your help. Adding only my own tutorials will not give my visitors what they seek, so YOUR tutorial is very valuable not only for me, but for all the people visting this site. With your help, I may achieve my dream, to make this a true tutorial heaven.