---
Online sales are temporarily suspended !!
Contact the seller in advance before paying for the order!
---
Polymer Clay Tools - Part 1
You don't need a lot of polymer clay tools. Some you already have in the house. Some you can easily make yourself. But there are tools you can buy, that makes working with clay a whole lot easier.



Pasta machine:
If you are on a budget and wonder what sort of polymer clay tools you should put first on your priority list, I would say, buy a pasta machine.
A pasta machine makes conditioning and working with polymer clay, not only easier, but also more creative. Without a pasta machine, it will be very hard to make, lets say, a Skinner blend. You can do it, but it will be very hard work and take ages. And since a Skinner blend is the base of so many other techniques, you don't want making one to take for ever.

There are many different brands of pasta machines. There are however two that are made for working with Polymer clay. If you are new to polymer clay, I would not recommend you to buy the most expensive one. Many have tried polymer clay, and given it up, since it can be a bit challenging in the beginning. But please don't give up too soon. It is a wonderful medium, and you can create SO much with it.
The Amaco Pasta Machine is a very good pasta machine that is affordable in price. It has seven thickness settings, and you can buy an additional feeding tray, that makes it easier to feed the clay into the machine. If you treat it nice, it will last you for years.
If you are looking for a sturdy and good pasta machine that can be used for larger amounts of clay, the Makin's Professional Ultimate Clay Machine is a very good choice. It is wider than the Amaco, which allows you to work with more clay at the time, which is a huge plus. It also has 9 thickness settings. It is a bit more expensive than the Amaco, but if you work frequently with polymer clay, it is well worth the price, and will last for years.

You can get motors to attach to certain pasta machines. If you work with polymer clay a lot, this may be a good investment. It allows you to use both hands to feed the sheet to the machine. When the clay is a bit sticky, it clings to the machine and you end up tearing the sheet in two, therefore it is a big plus to have both hands free to feed the sheet properly.

The cleaning of a pasta machine can be a bit tedious, but very necessary. Click on this link to see how to do it.

See how you can clean your pasta machine without taking it apart.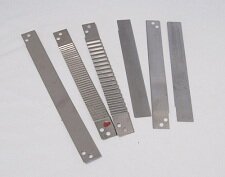 Tissue blades:
There are several brands of tissue blades to get, some have handles that prevents you from cutting yourself, if you by accident cut with the blade the wrong way down. It also makes the blade easier to handle. Most come without handles though.

There are different blades for different uses. Mainly there are four different ones. The sturdiest one is suitable when you need to cut with more accuracy, or cut slices from canes. It is a little longer than the other blades. I also use this blade when I slice clay for conditioning, and it makes cutting straight lines very easy.

Then you have a ultra thin, more flexible blade. This you can use for things like Mokume gane, or when you need the flexibility of the blade to cut i.e. curves.

There are also two ripple blades that allows wavy cuts.

If you need to store your blades securely, there are blade keepers you can buy from polymer clay suppliers. I keep mine, together with the rest of my tools, in a plastic box with a lid.

If you need tissue blades you can get them here:
Amaco Nublade Polymer Clay Blade from MisterArtThe first blade designed especially for use with polymer clay. Designed by polymer clay artist Donna Kato, it provides clean, accurate cuts, even on large diameter canes or polymer clay blocks. Made of stainless steel, it resists oxidation and stays sharp two or three times longer than other blades. The blade measures 6 in. x 3/4 in.


Super Slicer by DickBlick Art.This tool includes 4 interchangeable blades: rigid, flexible, wavy, and rick-rack. A set of handles is also included.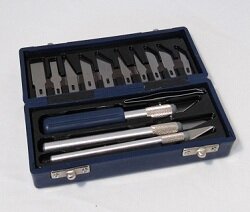 Craft knives:
Craft knives or scalpels allow you to cut nicely around shapes and when the tissue blades are not suitable. You can get craft knives in sets, where you can change blades for different purposes.
You can also use a carpet or linoleum cutter, but they do not give you the same flexibility as a craft knife does.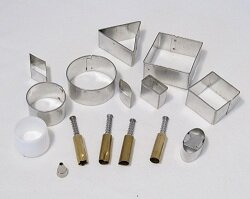 Shape cutters:
Shape cutters are used to cut shapes out of raw clay. You can get them in many different brands, shapes and sizes from suppliers that sell polymer clay tools. Shape cutters allows you to cut several pieces with the same shape, pretty much as you do when you make cookies. Therefor you can actually use cookie cutters, depending on the size and shape.

Some polymer clay suppliers sell form making sets, where you can create your own shape cutters. You can also get geometric clay cutters, where the cut is slanted.

There are many things that you already have in your home that you can use to cut shapes. Search around to find things you can use. A straw can be very useful for cutting small round shapes, as can the top of a pen.

Cane slicers:
A cane slicer is a box in which you put your cane, and a slit where you insert the tissue cutter. It works pretty much like a guillotine. Some have a measure scale so that you can measure each slice, and others come without one. On those you must use a ruler additionally. Not all suppliers that sell polymer clay tools have cane slicers, but if you search a bit around you will find them online.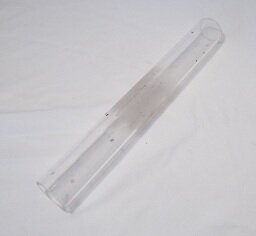 Acrylic rollers:
Acrylic rollers work like a rolling pin. You use it to flatten clay. To even out the surface of your clay or to press a texture sheet evenly into a clay sheet.

You can get the acrylic rollers in different sizes and shapes. Some are hard , and some are hollow . You can get them square to. The square ones are used to reduce square canes.

Clay sticks to the acrylic rollers, so dust the clay with cornstarch before your roll it, or put a piece of paper on top of the clay.

You can also get rollers with handles. These are not transparent, and must not be washed with alcohol. I have one, but must admit that this is not one of the polymer clay tools that I use often. So if you need to choose, I would say; go for one without a handle. It is wider and easier to clean. But just because I don't use mine, does not mean that you will not use yours, so pick what suits your purpose most, or buy both. If you cannot afford to buy one, use a glass bottle or a glass. Just be careful so that it does not break.


Lucite plates:
Lucite plates were originaly not something you defined as polymer clay tools. It belonged more in the quilting department. However, scrap booking, quilting and polymer clay now share lots of tools and techniques, and lucite plates have lately been adopted into the polymer clay tools group.

You can use Lucite plates to roll beads into different shapes. You put the bead under the plate and roll it into the shape you want, depending on how you move the plate, and where you apply pressure. This way you leave no finger- or hand prints on the beads. They are also great when it comes to roll tube beads.

I use my patchwork templates for this. That way I have different sizes and shapes to use. You can also use glass plates, like from a photo frame. I would recommend you to put electrical tape around the edges of the glass, though, as they are very sharp.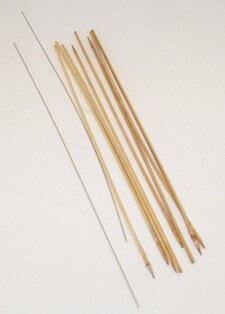 Rods, mandrels and skewers:
Bamboo rods, knitting needles, mandrels, long needles. They can all be used as polymer clay tools, when you bake beads. What you use depends on the size you want the hole in the bead to be. I mostly use bamboo rods, as these are easy to come by..in the summer that is..barbeque season in Norway is very short. So in the summer I grab as many packs as I need to last until next summer. Since they are wood/bamboo, you can sharpen the ends when needed.
I also have some very thin mandrels of 0,2 mm that I use if I make very small beads or bead that need small holes.
I use bamboo rods for lots of things. They are perfect for glazing beads with liquid polymer clay, as you can spin the beads around when you heat them. They make large holes, though. When making small beads, that may not be what you need. Therefore I also have some mandrels that are very thin, but long enough to bake several beads at the time.

There are also fabricated piercing pins and bead racks made especially to bake polymer clay on. You can get those from most suppliers that sell polymer clay tools.

Texture plates and rubber stamps:
Several techniques in polymer clay are created by using some sort of texture. These can be deep or shallow, depending on what you are making. There are lots of texture plates and rubber stamps you can get, both from suppliers that sell polymer clay tools and scrap booking suppliers. You can also use things you find in your home, like rough sandpaper, lace, creased paper, surface of a vase and more.

There are some brands of texture sheets that I can recommend you to buy, like:

Makin's clay texture sheet sets :
You can get three different sets of 4 sheets. The sheets are very fine textured, with small patterns, like brick, waves, small squares or lace patterns. Small patterns are handy, as polymer clay beads or jewelry usually are quite small. The plates are of clear plastic, so you can see the clay through it when you print. This is also a huge benefit, as it will give you a nice overview of where the print actually goes on your clay sheet. As they are plastic, they are very easy to clean. Just add some dishwasher and rinse with water.

Studio by Sculpey texture makers:
These are also very good texture sheets. They are made of a thicker rubbery plastic type that can be cleaned easily with soap and water. There are three several sets with two sheets in each, and have small, beautiful patterns like cherry blossoms, flowers, swirls and leafs.

You can see one of these patterns used in this tutorial: Swirl Beads - One Pattern, Three Techniques


Scratch-art's Shade Tex rubbing plates:
A4 sized texture sheets in clear plastic, like the Makin's. In one pack you get 6 texture sheets with a total of 10 patterns. The patterns are larger than makin's and Sculpey, but easy to use in your designs. Easy to clean with soap and water. They are of clear plastic, so you will see where you print your clay.

Lisa Pavelka's Texture stamps:
These texture plates are of thick rubber, and are soft and malleable. You can get them in several patterns with 2 stamps in each pack. I find that they are a bit harder to clean than the former ones, but soap and water usually work fine, if you have dusted them with cornstarch or water before use. If clay still is stuck, you can actually bake them in the oven on 265 degrees F for some minutes, and then pick the clay out with a toothpick when cool. The prints are lovely, and you get several on each sheet. Some of the patterns are very close together though so it may be difficult to get only the one you want.

Remember to dust your clay with cornstarch or spray it with water, before you press the texture into the clay. That will prevent the clay to stick to the texture plate. If you should forget, don't panic. Simply soap the plate in with dishwasher soap and remove the clay with water. If some still stick, use a small needle to pick it out.

See how you can use texture plates and metal leaf in this tutorial: Eye Catching Chinese Brocade Beads


Return from Polymer clay tools to Polymer clay basics

Return from Polymer clay tools to Home page


Leave a comment ,
I would love to hear your opinion on this page. Good or bad, it will help me making this Site better.