---
Online sales are temporarily suspended !!
Contact the seller in advance before paying for the order!
---
Rough And Tough Polymer Clay Beads Part 1

Rough polymer clay beads that needs no sanding or varnishing are fun to make. By using only a few colors and making some basic canes, you can make several different looking beads in the same batch. Make sure you have lots of time, so that you really can let your creativity loose. The time consuming part in this is the making of the canes, but once they are ready, the fun begins.
When I have some scrap clay left that have great colors or marbling, I sometimes use it to make these fun and rough polymer clay beads, without having a particular project in mind. I then store them in plastic bags and use them in different projects later.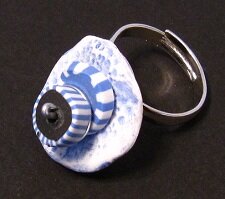 The beads may not look like much one by one, but when you add them to a design, they look like a million dollar..(OK, maybe not THAT good, but they do give an aura of hand designed jewelry, just take a look at this ring).
The polymer clay beads I make in this tutorial is only to show you some of the things you can do. Of course there are hundreds of more ways, so let yourself go wild. Use your clay gun, your texture tools and stamps, foil, metal leaf and paint. There is no limit to what you can do.
OK! Let's begin, shall we?
What you need to make this beads:

Polymer clay in white, black, Lavender, sunflower and Christmas red
Tissue cutter
Texture tools
Knitting needles and bamboo rods
Scrap clay
Baby wipes
The Skinner blend cane:
Skinner blend can be used for so much.
If you don't know how to make one, you can read about it here

Condition white, sunflower, lavender and Christmas red clay. Mix 1 part Sunflower with 3 parts Christmas red to make the red clay. Roll white, lavender and the red clay into "carrots" and run them through the pasta machine to make a skinner blend.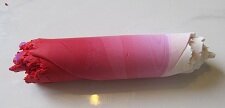 Roll the skinner blend into a log. Squeeze the log into a plug, by pressing the ends towards the middle, making a fat little plug.

Flatten it and run it through the pasta machine on the thickest setting, starting with the white end. Keep running it through on thinner and thinner settings until you have one long sheet.



Roll a thin white snake and roll the sheet around it until you have a cane. If the cane is very thick, reduce it until it is about the size of your little finger in diameter. Cut it into 4 equal pieces.








The first petal cane:
Petals are fun to decorate polymer clay beads with. By using different sizes on the petals, you can create lovely beads, both rough like these, but also beautiful ones with a smooth surface.

Cut one of the Skinner blend cane pieces in two by splitting it in two halves length wise. Condition some black clay and put a medium thick black sheet between the two halves and put them back together. Trim of the excess of the black clay.







Pinch the cane into a leaf shape along black line on one of the sides, so that the black clay runs through it like a vein. Put the cane aside.








The striped cane:
Condition some black and white clay and run them through on the thickest setting. Stack black and white until you have a striped block.

Reduce the black and white stack to the same height as one of the skinner blend cane parts.







Cut slices of the stack and place them around the cane. Reduce the cane so you have a longer, thinner cane. Put the rest of the stack aside. You will use it again later.








The second petal cane:
Condition some black clay and roll it into a sheet on the thickest setting on the pasta machine. Wrap one of the remaining Skinner blend cane pieces in the black sheet.







Reduce the cane and press it so that it becomes oval in shape. Cut it in three and put the three pieces together in a stack. Reduce the stack and shape it until you have a long square cane. Put it aside.



Now you have made all the canes you need to make the rough polymer clay beads. Let's contiune in Part 2.


Rough And Tough Polymer Clay Beads Part 2

Return from Rough And Though Polymer Clay Beads to Polymer Clay Tutorials

Go to Home Page


Contribute with YOUR tutorial
My dream is to make this site the largest and best jewelry making site there is. Where you can find tutorials on every aspect of jewelry making, a real tutorial heaven for crafters around the world.

But, I need your help. Adding only my own tutorials will not give my visitors what they seek, so YOUR tutorial is very valuable not only for me, but for all the people visting this site. With your help, I may achieve my dream, to make this a true tutorial heaven.