---
Online sales are temporarily suspended !!
Contact the seller in advance before paying for the order!
---
Plique-a-jour – Glass Paintings In Miniature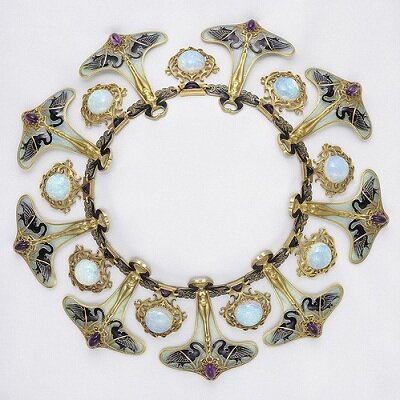 Plique-a-jour
enameling
is the name of a technique which probably is the most sophisticated and beautiful of all enameling techniques. Imagine the glass paintings in a church, with the sun shining through the different sections of colored glass. Then shrink that image to a small piece of jewelry and you have this amazing enameling technique.
It resembles Cloisonnè. Thin wires are used to create the "skeleton" of the piece, and enamel is filled into the cells. What makes the difference is that Plique-a-jour does not have a backing, so you can see through the enameling. And the lack of backing is what makes this technique so unique and beautiful, but also very hard to master.
It is not an old technique. It was introduced to the world through Renè Lalique during the Art Noveau period at the middle to end of the 19th century. He created, among lots of things, some beautiful pieces of fairies with translucent enamel wings. Russian jewelers were very skilled in this type of enameling technique, and the technique is still alive and used by artisans today.
Plique-a-jour requires great skills to create the finest filigree work with gold, silver and copper wires by hand. The cells have to be small in order to hold the enamel. Now there are actually two ways to do this. One is to have a Mika backing that is removed after the enamel is fired. That is the easiest way. The other is to get the exact right viscosity of the enamel, so that the surface tension holds the enamel between the wires. That is the difficult way, and can easily go wrong and ruin the piece.
Like with all enamel the glass must be crushed and grounded to a very fine powder and then washed several times with water to remove impurities. For this technique only transparent enamels are used, and in order to get it as transparent as possible, it is fired at high temperatures.
If you find cloisonné beautiful, you will definitely love this enameling technique with its lovely transparent colored enamels.
There are several other enameling techniques suitable for jewelry making, like Guilloche enameling, Champleve, Basse taille and of course Cloisonnè. Just follow the links and you can read all about them.


You can make faux Plique-a-jour with polymer clay. See how in this tutorial: Faux Plique-a-jour Earrings



Return from Plique-a-jour to Jewelry making Techniques

Go to Home Page


Leave a comment ,
I would love to hear your opinion on this page. Good or bad, it will help me making this Site better.