---
Online sales are temporarily suspended !!
Contact the seller in advance before paying for the order!
---
Persian Beads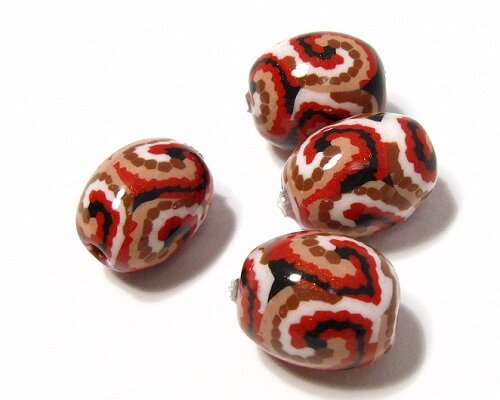 These beads remind me of a Persian rug, hence the name Persian beads. They are made from a very simple cane, created with smaller snakes extruded from a clay gun.
What you need:

Fimo soft white, black, Christmas red, cognac
Fimo Effect gold
Bamboo rods
Shape cutter
Tissue blade
Liquid polymer clay
clay gun
Step 1:
Condition the clay. Mix one part cognac with three parts white to make the light brown.
Mix one part red with one part gold to mix the red color.

Step 2:
Roll the white clay into a log and feed it into the clay gun. Use a large round disk and extrude a long snake. Do the same with the rest of the colors, going from light to dark so that you do not contaminate the lighter colors.
Step 3:
Cut the snakes into 1 cm long pieces. Start putting them together to create the spiral pattern. Make the last three rounds of snakes a bit thinner, to end the pattern softly.
Step 4:
Reduce the cane until it is about finger thick or proximately 1,5 cm in diameter. Put it aside.
Step 5:
Roll a black log about the same thickness as the cane. Mark every 1,5 cm, and cut it into pieces. Shape the pieces into square cubes. Shape the cane into a square shape as well.
Step 6:
Cut thin slices from the cane and apply on all 6 sides of the black cube. Pinch the seams and then roll it smooth on the surface.
Step 7:
Roll the beads between your palms until they are slightly oval shaped. Stick them onto a bamboo rod and clean them with a baby wipe to remove contamination from the red and black clay, and to remove fingerprints. Bake for 30 minutes.
Step 8:
When the beads are cold, glaze them with liquid polymer clay, or finish them the way you prefer.
And that was it, your Persian beads are done.


I had a lot of scrap clay from this project, see what I used it for in this tutorial: Make Lovely Candy Beads From Scrap Clay


Return from Persian Beads to Polymer Clay Tutorials

Go to Home Page


Contribute with YOUR tutorial
My dream is to make this site the largest and best jewelry making site there is. Where you can find tutorials on every aspect of jewelry making, a real tutorial heaven for crafters around the world.

But, I need your help. Adding only my own tutorials will not give my visitors what they seek, so YOUR tutorial is very valuable not only for me, but for all the people visting this site. With your help, I may achieve my dream, to make this a true tutorial heaven.