Hello,
Happy New Year! I hope you have had a nice Christmast with family and friends, and are ready to start the new year with lots of jewelry making projects in mind. I have some new tutorials for you, and hope you will enjoy them. You can also read the facinating stories about different jewelry trends like the Gothic and Celtic, and get some tips on jewelry design.
Your feedback is very important to me. If there are things you miss on my site, or things you would like me to write about, please let me know. You can do so by responding to this mail when your receive the newsletter, by using the -contact me- page on my site, or the -Leave a comment- forms at the bottom of each page. I have also opened a FAQ where you can ask questions and have others answer for you. You will find the button on the navbar on the left.

I hope you will enjoy this newsletter, just as much as I enjoy writing it for you!

All the best!

Anne Cecilie


In This Issue
News
Celtic Jewelry - Symbol, Art And Mystic Hand In Hand
Gothic Jewelry - A Flirt With Pagan Symbols, Mystic And The Supernatural
Jewelry Design - Not Just A Visual Feast
Jewelry Design - Creating With Your Heart
New tutorials

Spectacular Snake Eye Ring
Peyote Stitch - Easy Or Painstakingly Difficult?
Gay And Funny Splash Beads
Beautiful Riverstone Necklace And Earrings
Three Ways To Start Brick Stitch
Peyote Bracelet - Stitched With Amazing Delicas
New Items In The Jewelry Store
Pearls And Lace Necklace
Lavender Crystal Bracelet
Vienna Blue Beaded Collar
The Tip Of The Month
Polymer Clay Color Inspiration
---
News
Celtic Jewelry – Symbol, Art And Mystic Hand In Hand
Celtic jewelry are easy recognizable due to their intricate interwoven patterns. You have probably seen a Celtic knot or a letter surrounded by lines, mazes and impossible to do looking patterns. But did you know that this kind of jewelry have a long and interesting history? And that those lovely pieces of craftsmanship have deep and mythical meanings?

History:
There are not lot of knowledge about the original Celtic people. They transferred their knowledge verbally and not in any written form, so much of their history is lost in time. There are some things we know though. Today we can find their descendants in Ireland and Scotland, but originally they came from Germanic tribes in mid and western Europe. Archeological findings show that they used to adorn themselves with jewelry, brooches and other artifacts and that they did the same with their horses. read more


Gothic Jewelry - A Flirt With Pagan Symbols, Mystic And The Supernatural
What can be said about Gothic jewelry, other than that it is amazing. If you want really original jewelry with a heavy touch of morbidity and mystic, pagan motifs and heavy ornamentation with gemstones, beads and even precious stones, go Gothic.

Gothic jewelry balances on the edge between gorgeous jewelry inspired by ancient times and the morbid on the brink of ridiculous. It is jewelry that have it's roots in many eras, still it is easily recognizable as something unique for our era. It is jewelry with soul, with distinct roots in the morbid and pagan, in the supernatural, and in old cultures like the ancient Egypt and the Celtic tribes.

To understand Gothic jewelry and what being Gothic represents today, we have to look at Gothic history which dates back to the beginning of the first millennium.
Read more


Jewelry Design - Not Just A Visual Feast
Jewelry design is, like all other types of design, the designers way of expressing something affecting them at the moment of creation. It is also an important part of the physical properties of the jewelry, like how it will behave when you wear it.
The first part of jewelry design is individual and can be expressed in several ways, like with color, texture, rhythm and shape to mention some. The second falls under more strict rules like weight, balance and materials used etc.
Read more





Jewelry Design - Creating With Your Heart
Jewelry design can be anything from very simple and minimalistic to large, colorful and bold, it can be symmetrical or asymmetrical and as diverse as we are as human beings. Jewelry triggers, like all types of art, feelings in us, like a sense of luxury, joy, pride, boldness and lots of other emotions. We fall for the colors, the metals used, the substance of the elements and the combination of them, their glory or simplicity. We simply love jewelry, and regard it as something very personal.
Read more


---
New Tutorials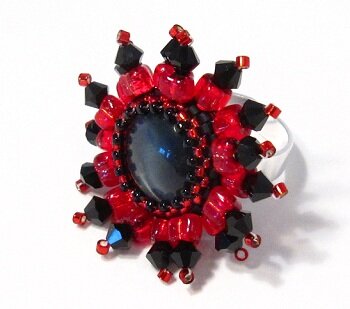 Spectacular Snake Eye Ring
Having a large and sparkling ring simply draws attention. This especially if the ring is different from what we normally see, and this sparkling snake eye ring, is very different indeed.

The snake eye cabochon is a type of cat's eye. Instead of a straight line in the center, this has an S-shaped one. Now, snakes doe not have S-shaped pupils, but it is called snake eye anyway. The S do resemble a slithering snake, so the name is not totally out of the blue. No matter what, it is a dramatic cabochon, and I thought it needed some dramatic ornamentation to back it up. The result was this ring.

What you need to make it:

One ring base, adjustable
see the rest of the tutorial



Peyote Stitch - Easy Or Painstakingly Difficult?
Peyote stitch is a very beautiful beading stitch. It can be very easy to do, but also painstakingly difficult at times, depending on which version you choose. It can be done even count where you use an even number of beads, or odd count where you use an odd number of beads. It can be done flat or tubular as well as circular. You will see what I mean in a little while, but first, let's take a look at the history around Peyote stitch.

Gay And Funny Splash Beads
Making these splash beads was an accident. I actually wanted to make something else, but different circumstances turned what I was doing into these instead. And, I simply just loved them. They look like some crazy splashy flowers, so I named them Splash beads.
The size of the beads depend on how much you reduce the cane, but I'll come back to that later. Are you ready to begin? OK!

Beautiful Riverstone Necklace And Earrings
This Riverstone necklace is very comfortable to wear. The warm and heavy feeling of gemstones makes this one of my favorite necklaces. The different sizes of the beads gives it a natural curve, and drapes it beautifully around the neck. And the best of all....it is very easy to make.
The stitch used is Right angle weave, two needle variation. Actually you don't really use needles when you make the base row. The fish line is stiff enough to pass through the beads without needles.
Three Ways To Start Brick Stitch
Brick stitch is also known as Comanche or Cheyenne stitch after the native American people. It got its name from the resemblance to brick walls, as you will see in a moment.

This off-loom stitch resembles Peyote stitch, and sometimes it can be difficult to determine which is which. If you see the two next to each other, Brick stitch is looking exactly like Peyote if you hold it sideways and vice versa.

Peyote Bracelet - Stitched With Amazing Delicas
As you can see from this peyote bracelet, there are no seed beads that works better with Peyote stitch than Delicas from Miuki. These cylinder beads are so uniform, that when stitched together you can hardly pass a needle between them, because of their tight fit. Stitched together they give a very stiff finish, perfect for anything that needs to hold its shape. You can use this stiffness to your advantage, like in this bracelet, where you stitch the bracelet lengthwise instead of the regular way. See the rest of the tutorial


---
New Items In The Jewelry Store

Pearls And Lace: Beautiful and elegant necklace with pearls and seed bead woven lace. more information



Lavender Crystal Bracelet Lovely Swarovski bicones stitched together with Peyote stitch.
Vienna Blue Beaded Collar: Beautiful beaded collar in light blue and cream.
---
Tip Of The Month

Polymer clay color inspirations by Lindly Hanunani and Maggie Maggio
If you want to learn all there is about color and polymer clay, this is the book you should buy. It is well worth your money. The book is richly illustrated, and has lots of projects where you learn how to use color to create stunning polymer clay jewelry.

You learn how to mix colors directly related to polymer clay, not just as general color theory. I found that using the projects in the book, like making a color box is extremely useful. You learn all about how you can mix beautiful colors and keep track of the receipts. The book has a whole chapter about how you can find inspiration to new colors and color schemes using collages. It also covers how colors alter their appearance when put together in special ways.

I really recommend you to buy this book. It opens a whole new world when it comes to mixing polymer clay colors.